We know that a roof is no small investment. In fact, installing a new roof or repairing a roof is one of the more expensive investments you can put into your home. However, it is such an important investment! Because of this, we offer six different financing options to help our customers get the roof they need.
Contact us with any questions you may have about financing options.
Financing Options
Our service provider allows us to offer six different plans, and those terms ranged from anywhere from five to 10 years.
12 months – zero interest with no monthly payments – same as cash
18 months – deferred interest with minimum monthly payments
6.99% interest rate loan term is no interest, no payments for first 3 months/60-month loan term
9.99% interest rate over 60-month loan term
9.99% interest rate over 120-month loan term
9.99% interest rate – 120-month loan term and no interest, no payments for first 6 months
How It Works
Step 1. Complete Powers Roofing & Exteriors's personalized financing portal to see your personalized pre-approval options.
Step 2. Choose an offer and apply for your loan.
Step 3. Get your funds in a few business days and pay Powers Roofing & Exteriors directly.
Step 4. Repay the lending partner in affordable monthly installments.
Apply Now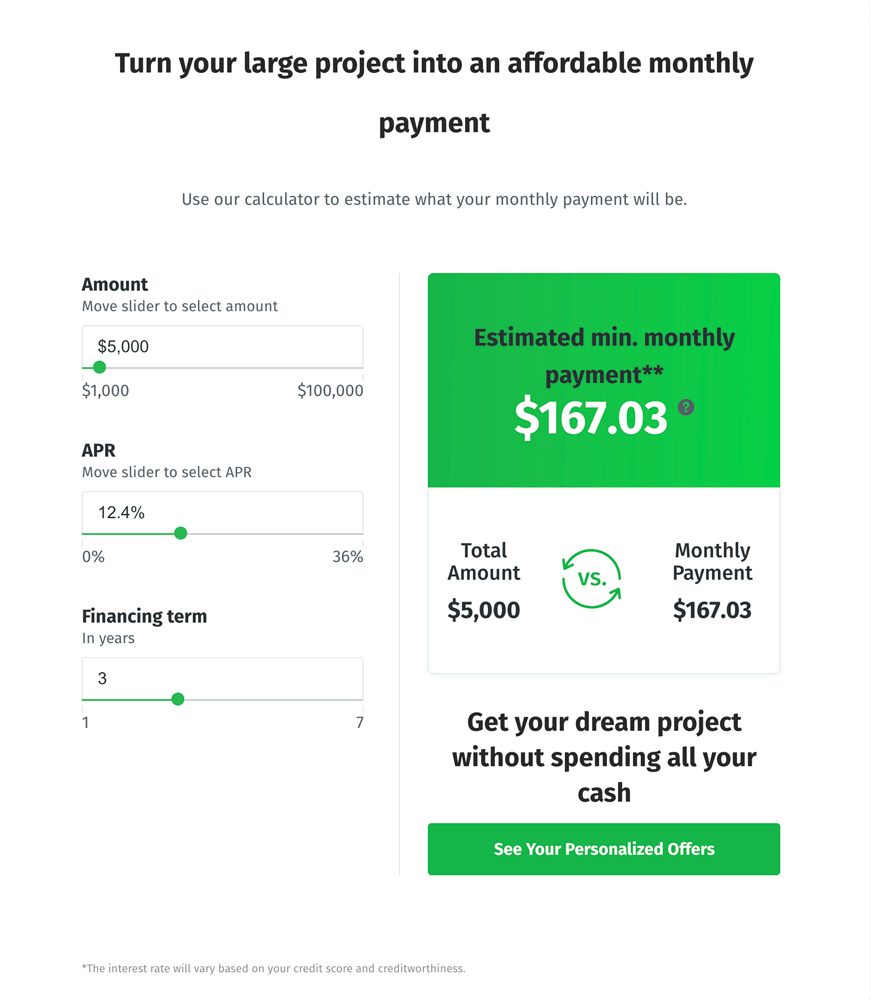 Frequently Asked Questions
Financing is available from $1,000 to $100,000. Interest rates can be as low as 0% "same-as-cash" with Intro-APR credit card offers, for qualifying applicants. With personal loans, APR's can range from 5.99% to rates comparable with credit cards. Term lengths are available up to 60 months (five years).
When you fill out the application, you'll receive personalized offers based on your personal credit history. Offers and application decisions are based on a variety of factors, including credit score, debt-to-income ratio, past bankruptcies and repayment history, how recently you requested credit, etc. The better your credit score, the more likely you are to receive the best offers. Since there is no damage to your credit score, complete the 90-second application to see your personalized pre-approval offers.
Pre-approval takes 90 seconds. Once you are approved for your loan of choice, you will receive funds in 1-5 business days on average.
Enhancify uses technology to make the home improvement financing process faster, more transparent, and more accessible for homeowners. In a sentence, Enhancify acts as "match-maker", delivering offers from dozens of lending networks (and thousands of end-lenders) in one place through a seamless, fast process. Lending partners include world-class leaders like Marcus from Goldman Sachs, SoFi, Lending Club, Lending Point, Avant, Payoff, Upgrade, Prosper, Best Egg, and others. Enhancify is the technology layer that sits on top of many banks and lenders and is not a direct lender. Enhancify does not have any influence on financing offers.
Yes. Your information is protected with the same industry-leading security as Amazon and Facebook. We take privacy and security extremely seriously and do not store personal information.
Learn More About Financing Your Roof
If you are interested in learning more about our financing options, please contact us today!
We're Here to Help
Want to discuss options?
Call Us Now
Call Powers Roofing & Exteriors to learn more about our different financing options.
Click To Call Now
Ready to finance?
Apply Online Now
Click the button below to start your application process. Pre-approval takes 90 seconds!
Start Now