Want to know your options for a new roof? Looking for a roof estimate? Call Powers Roofing & Exteriors of Mentor, OH. We have decades of experience installing new roofs in Northeast Ohio, and we're happy to come to your property to discuss the new roofing materials available today and how much you can expect to pay for your new roof. We offer free inspections – no commitment upfront!
Bonded and Insured in the state of Ohio
BBB Accredited Business with an A Rating
Owens Corning Preferred Contractor
Workmanship Guarantee
Competitive Pricing for Quality Roofs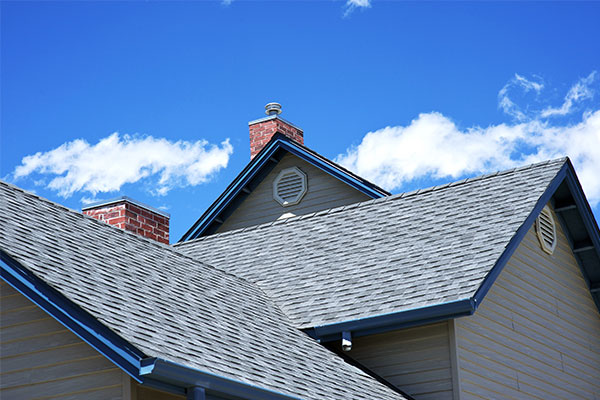 Roof Replacement Cost
While there are too many variables to put a general price on a roof, we will send our inspectors out to perform a free inspection and discuss all the options with you to put together a thorough estimate. The pricing for a new roof depends on various factors, including the square footage of the roof, the roof material, and how complex the roof is. Our experience and knowledge of local variables around mean that we have the resources to help you determine the best roofing solution for your needs and budget. A properly installed roof suitable to the local climate will generally last up to 15 years with regular maintenance and inspections, acting as the first line of defense for your home the whole time.
Re-roof v Replace
While it may seem tempting to save up-front money by simply laying new shingles over the old roof, re-roofing is not typically recommended. If your shingles are old and need to be replaced, so does your roof deck. Once the old shingles are removed, our licensed roofing professionals will be able to identify areas of instability and damage to the roof deck that the shingles may have previously hidden. Not only is it best to replace the old roof decking, but roofing materials and installation techniques also change rapidly with new technologies, and building codes are continuously being updated. Re-roofing an old roof could leave the roof out of code and may not carry the same warranties as a full roof replacement.
If you've decided it's finally time to consider a new roof, Powers Roofing can help you sort through all of your options. We will help you determine a budget and goals for your roof. From there, we can help you determine the materials and installation that will fit into your goals for budget, function, and aesthetic. We'll work with you every step of the way to ensure your roof is exactly the way you want it.
Asphalt v Metal Roofs
Asphalt roofs are a popular choice due to their affordability and ease of installation. They provide excellent insulation, which can help regulate indoor temperatures and reduce energy costs. Asphalt shingles come in a wide range of styles and colors, allowing homeowners to achieve their desired aesthetic.
On the other hand, metal roofs are celebrated for their durability and longevity. They can withstand harsh weather conditions, such as heavy rain and snow, and are resistant to rot, mildew, and insect damage. Moreover, metal roofs are eco-friendly, as they are often made from recyclable materials and can be recycled themselves at the end of their lifespan. While they may require a larger initial investment, metal roofs can prove to be a cost-effective choice over time due to their low maintenance requirements and extended lifespan. Ultimately, the choice between asphalt and metal roofing depends on your budget, aesthetic preferences, and long-term goals for your home.
Frequently Asked Questions
The pricing for new roofs depends primarily on the square footage of the roof surface, the type of material you choose (asphalt, metal, cedar shakes, tile, etc), and the complexity of your roof (dormers, steep angles, etc.) Because we've been installing new roofs in the Northeast Ohio area for so many years, we have the experience and resources to help you decide on a quality roof solution that will suit your budget.
Each shingle brand provides a different guideline for how long they expect their shingles to last. A properly installed roof will generally last up to 15 years with regular maintenance and inspection, especially after severe weather events.
While there could be some initial cost-saving in laying new shingles over an old, aged roof, we generally don't recommend re-roofing. Old shingles also mean an old roof deck. By tearing off the old shingles, our licensed roofing contractor will then be able to spot any areas of instability or damage to the roof deck that the shingles may have hidden. We can replace any sections where there may be wood rot. Roof installation techniques and materials have also changed over the last couple of decades, and your old roof may not be up to code. "Re-roof" jobs may also not carry the same warranties as a full replacement.
When you decide it's time to consider a new roof, consider your budget and goals. Metal roofs tend to last longer than asphalt shingles, but they cost more upfront and may not "fit in" with the neighborhood. Asphalt shingles are an affordable option, but some choices will determine the roof's overall aesthetic and potential lifespan, even in that arena. Consulting a roofing contractor to help you make these choices is best. They'll have the experience to help guide you towards the best result.
Metal roofs are known for their exceptional durability and longevity. On average, a well-maintained metal roof can last anywhere from 40 to 70 years or even more. The exact lifespan depends on various factors, including the type of metal used (such as steel or aluminum), the quality of installation, and the local climate conditions. Regular maintenance and inspections can help extend the life of your metal roof.
Contrary to common misconceptions, modern metal roofs are not significantly noisier than other roofing materials like asphalt shingles. In fact, with proper insulation and attic space, metal roofs can be just as quiet, if not quieter, during rain or hailstorms. Many metal roofing systems come with sound-deadening technologies to minimize noise. If noise is a concern, you can discuss insulation options with us to ensure a peaceful interior environment.
We're Here to Help
Wanna talk to us?
Call Us Now
Call Powers Roofing & Exteriors for help choosing your next roof or to request your free estimate.
Click To Call Now
Need some help?
Fill Out Our Form
Message Powers Roofing & Exteriors if you have questions or simply want to schedule a free roof inspection.
Start Now
Our Service Area
Proudly Serving Northeast Ohio
Proudly providing residential and commercial roofing, gutter and siding services to Lake, Cuyahoga, and Geauga Counties.
Mentor
Kirtland
Eastlake
Willoughby
Willoughby Hills
Concord
Painesville
Wickliffe
Willowick
Grand River
Perry
Chardon
Madison
Chesterland
Chagrin Falls
Euclid
Fairport