Gutters prevent water damage – plain and simple. By diverting rainwater from your home or business, a properly installed gutter system can save thousands of dollars in costly water damage repairs down the road. If you are looking for a contractor to install new gutters or if your existing gutters need to be fixed, give Powers Roofing a call.
Bonded and Insured in the State of Ohio
BBB Accredited Business with an A Rating
Owens Corning Preferred Contractor
10+ Years of Experience
Family-Owned and Operated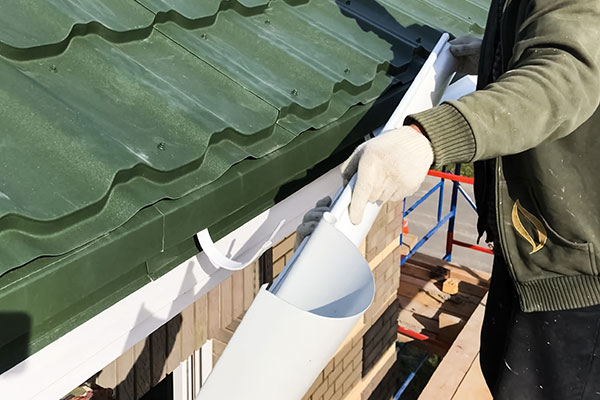 Gutter Costs
Gutter pricing depends on the materials chosen, the type of gutter system, and the linear feet of the gutter required for the most effective drainage. Most gutters are made of vinyl, aluminum, or steel, and the industry-standard pricing is typically between $500-$1500 for 200 feet of gutter. Although this is a very rough estimate, it's helpful to give a general price range that can be expected when replacing your gutters.
Gutter Locations on the Home
When determining how many feet of gutter you need, we should note that gutters don't necessarily have to be installed around the entire house. The location of gutters on the home is largely dependent on the design of the roof. Gutters are typically installed on any horizontal roof eave to ensure the diversion of rainwater away from home. Our licensed roofing contractors can inspect your home and help you determine which areas of the home need a gutter system and the best location for downspouts taking into account both proper water drainage and home aesthetics.
Frequently Asked Questions
The cost will depend on how many feet of gutter is required for effective drainage, as well as which material you choose. Gutters are typically made of vinyl, aluminum, steel, or even copper. The industry standard pricing is usually around $500-$1500 for 200 feet of gutter to give you an idea of the potential cost.
Seamless gutter systems tend to last longer and leak less because of fewer joints.
It depends on the design of your roof. Most often, gutters are installed on any horizontal roof eave to divert rainwater from the house and prevent water damage. A licensed roofing contractor will be able to tell you which areas of your roof need a gutter system and help you determine where the downspouts are placed both for aesthetic reasons and proper water drainage.
Cleaning out your gutters at least once a year is one of the most important tasks a homeowner should include in their home maintenance checklist. Leaves and other debris can build up, causing unneeded stress on joints and excess weight that can increase the likelihood of a gutter failure. During the rainy season in Northeast Ohio, we advise homeowners to get out the umbrella and take a walk around the house's exterior to watch your gutter system in action to check for any obvious failures like water spilling over the gutter rather than running to the downspout. We always recommend installing leaf guards over your gutters if your home is situated near tall trees to help the gutters stay clean.
We're Here to Help
Wanna talk to us?
Call Us Now
Call Powers Roofing & Exteriors for help choosing your next roof or to request your free estimate.
Click To Call Now
Need some help?
Fill Out Our Form
Message Powers Roofing & Exteriors if you have questions or simply want to schedule a free roof inspection.
Start Now
Our Service Area
Proudly Serving Northeast Ohio
Proudly providing residential and commercial roofing, gutter and siding services to Lake, Cuyahoga, and Geauga Counties.
Mentor
Kirtland
Eastlake
Willoughby
Willoughby Hills
Concord
Painesville
Wickliffe
Willowick
Grand River
Perry
Chardon
Madison
Chesterland
Chagrin Falls
Euclid
Fairport